Thrive! Connecting Faith and Work - Wayzata, MN Location
Welcome to Thrive! Connecting Faith and Work in Wayzata, MN!
Engage with a local group of Christians in the marketplace through monthly Thrive! events to make connections and find support. We create an atmosphere of growth through relevant keynotes on faith and work topics from local experts.
Wayzata Free Church
705 County Road 101
Plymouth, MN 55447 United States
Join us on the 2nd Thursday of each month from 11:30am to 1:00pm
When not restricted by COVID-19 guidelines a light meal will be provided by one of our sponsors; you are welcome to bring your own meal and/or beverage if food is not being provided at this location.
Thank you to our Wayzata, MN sponsors!
Meet the Wayzata, MN Thrive! Community Leaders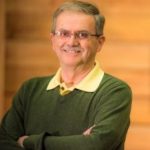 Steve Davis
One word aptly describes Steve's career: variety. Fresh out of college, he began as a Communications System Design Engineer for GTE (Now called Verizon). That experience was followed by sales and marketing leadership positions at Hewlett-Packard.
In 1990, God called him to educate and mentor young people at the University of Northwestern, St. Paul, where he served as a Business Professor. During that time, he also served as CFO for a non-profit that arranged business internships in China and Japan for roughly 100 American college students. Since retiring in December, 2016, Steve has owned and operated Wonderful World Travel, a boutique travel agency that specializes in creating memorable spiritual journeys to the Holy Land and other significant religious sites.
In his spare time, Steve bicycles and travels with Linda, his wife of 44 years. He also plays golf around Minnesota and the U.S. Most importantly, he spends as much time as possible with their 11 grandchildren!
Thrive! Wayzata, MN Announcements
8/20/2020 COVID-19 Update: The event location is subject to change based on the policies and procedures our host location is following. Additionally, if it has been announced that the event will be held in person, please watch for email updates in case the event has to be switched back to a virtual Zoom meeting at any point. Email support@afbnl.com with any questions you may have about this event location during COVID-19.