Thrive! Connecting Faith and Work - Eden Prairie, MN Location
Welcome to Thrive! Connecting Faith and Work in Eden Prairie, MN!
Engage with a local group of Christians in the marketplace through monthly Thrive! events to make connections and find support. We create an atmosphere of growth through relevant keynotes on faith and work topics from local experts.
Scheels Sporting Goods
8301 Flying Cloud Drive
Eden Prairie, MN 55344 United States
Join us on the 3rd Wednesday of each month from 8:00 to 9:30am.
When not restricted by COVID-19 guidelines a light meal will be provided by one of our sponsors; you are welcome to bring your own meal and/or beverage if food is not being provided at this location.
Thank you to our Eden Prairie sponsors.
Meet the Eden Prairie, MN Thrive! Community Leader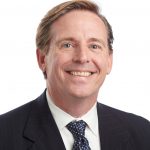 Troy Noor
Troy Noor is Executive Director of Boulevard Wealth Management. Boulevard provides team-based strategic financial planning to its clients. Troy is a Certified Financial Planner® and Chartered Financial Analyst which tells you about his technical skills.
To understand where his heart is, all you have to do is review his LinkenIn page which reads, "My life is all about stewardship - stewarding the gifts God has given me to be of service to others and stewarding the financial resources of our clients to help them maintain their financial security and independence. When I reach the end of my life I want to hear, "Well done, my good and faithful servant.""
Troy lives in Plato, MN on a 5-acre hobby farm. He and his wife Stacey have eight children ranging from 21-years of age to age 2. They sincerely believe children are a gift from God and the most profound Kingdom impact one can have is discipling the children God has given them.
Thrive! Eden Prairie, MN Announcements
8/20/2020 COVID-19 Update: The event location is subject to change based on the policies and procedures our host location is following. Additionally, if it has been announced that the event will be held in person, please watch for email updates in case the event has to be switched back to a virtual Zoom meeting at any point. Email support@afbnl.com with any questions you may have about this event location during COVID-19.