Thrive! Connect - Burnsville, MN Location
Welcome to Thrive! Connecting Faith and Work in Burnsville, MN!
Engage with a local group of Christians in the marketplace through monthly Thrive! events to make connections and find support. We create an atmosphere of growth through relevant keynotes on faith and work topics from local experts.
Donations help us Thrive! Give what you can, when you can to support Thrive! Burnsville.
Mercy Road Church
12156 Nicollet Avenue
Burnsville, MN 55337 United States
2nd Wednesday of each month
11:30am to 1:00pm
Thank you to our Burnsville, MN Thrive! Location Sponsors!
Thank you to our Burnsville, MN Food Sponsor!
Meet the Burnsville, MN Thrive! Community Leader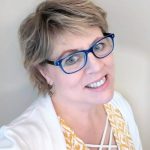 Cherryl Galezewski has a Master's Degree in Organizational Management and 20 years' experience in both implementing and teaching business development. Working in a variety of industries, she earned a Six Sigma Black Belt to help measure process improvements within organizations.
Her career was cut short when she was diagnosed with a life-altering illness, followed by a severe car accident that left her unable to work. Facing the physical, emotional, and financial challenges that followed, Cherryl began the journey to healing by trusting the leading of the Holy Spirit and painting.
As she gave her art away, she was inspired to incorporate this concept into PassAlong Gifts – art that is meant to be re-gifted while recording the journey it makes both on the back and online. Each gift also supports a charity.
Through PassAlong Gifts Cherryl is committed to helping organizations tell their story through artistic expressions that also give back to the community.  As these gifts are shared, the ripple effect powerfully spreads kindness and unleashes the power of giving!