Thrive! Connect - Bloomington, MN Location
Welcome to Thrive! Connecting Faith and Work in Bloomington, MN!
Engage with a local group of Christians in the marketplace through monthly Thrive! events to make connections and find support. We create an atmosphere of growth through relevant keynotes on faith and work topics from local experts.
Donations help us Thrive! Give what you can, when you can to support Thrive! Bloomington.
Christian Family Church
7375 Bush Lake Rd
Edina, MN 55439
3rd Friday of each month
7:30am to 9:00am
Thank you to our Bloomington, MN Thrive! Location Sponsors!
Thank you to our Bloomington, MN Thrive! Food Sponsor!
Meet the Bloomington, MN Thrive! Community Leader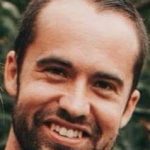 Patrick Nickerson
Patrick is a sinner saved by blood of Jesus Christ. He is the undeserving husband of a Proverbs 31 woman, the father of two little girls, a member of Redeemer Bible Church, and an employee at Sam Hennemann State Farm in Victoria, where he also resides.
He grew up in Chesapeake, VA where he attended Regent University to study business, and Virginia Beach Theological Seminary where he pursued a degree in Biblical studies. After graduating, he worked for two years as a Firefighter, and moved to MN February of 2021 to be near his wife's wonderful family.
Patrick believes that Christ is Lord of all- that "all things were created through Him, and for Him" (Col 1:16), including work (Gen 2:5). Therefore, rather than "adding a little Jesus" to our workday, all that we are and do should be informed by Christ, all the time; 9-5 being no exception. When he's not chasing his toddler around the house to keep her from destroying things or herself, Patrick loves Theology, going on dates with his bride, surfing, snowboarding, and playing the guitar.