Thrive! Connecting Faith and Work - Andover, MN Location
Welcome to Thrive! Connecting Faith and Work in Andover, MN!
Engage with a local group of Christians in the marketplace through monthly Thrive! events to make connections and find support. We create an atmosphere of growth through relevant keynotes on faith and work topics from local experts.
Join us on the 2nd Tuesday of each month from 8:00-9:30am.
When not restricted by COVID-19 guidelines a light meal will be provided by one of our sponsors; you are welcome to bring your own meal and/or beverage if food is not being provided at this location.
Meet the Andover, MN Thrive! Community Leader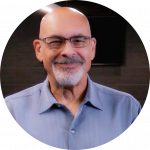 Joe Laux
Joe Laux has over 40 years of media sales experience in TV, radio, newspaper, and social media.  He retired in 2018 from a 15-year career at KARE 11.  At KARE 11 he maintained an account list of 25-45 clients and had an annual billing of $4-$5 million dollars.
4 years ago, he became a credentialed pastor and has served as an associate pastor at two different local churches.  He currently serves as the Community Engagement Pastor at Riverdale Church in Andover.  He feels his experience working in the marketplace helping businesses of many kinds grow and his faith walk and training are a perfect combination for this role as community leader.  As he likes to say, he can't find the concept of retirement in the Bible so he is committed to helping the business community around Riverdale Church thrive as long as he can.
Thrive! Andover, MN Announcements
8/20/2020 COVID-19 Update: The event location is subject to change based on the policies and procedures our host location is following. Additionally, if it has been announced that the event will be held in person, please watch for email updates in case the event has to be switched back to a virtual Zoom meeting at any point. Email support@afbnl.com with any questions you may have about this event location during COVID-19.