Founder and Chief Executive Officer
Bob Willbanks
Chief Operations Officer
Colleen Burrs
Communications Manager
Kathryn Strasser
Marketing and Communications Assistant
Moriah Wyre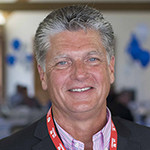 Bob served the payroll, tech and real estate sectors throughout his career with experience in sales, operations, management and service bureau ownership. He owned multiple successful business ventures and has experience with Fortune 500 companies at senior management levels.
From this career background Bob has a deep foundation from which to draw wisdom and discernment while leading Ambassadors for Business.
Connect with us in your preferred format!