How To Witness at Work Without Words
The Connecting Faith and Work podcast is a place to bring practical wisdom to you from those making an impact for God's kingdom in the marketplace. Two recent episodes feature guest Devin Dickel from Open USA talking about Business for Transformation and how you can be a witness for Jesus Christ in the marketplace each day no matter what your job title is.
The following text is adapted from the transcripts of episodes 65 and 67 of the Connecting Faith and Work podcast.
Open USA does business for transformation work in places around the world where there are no churches, very few believers, and no opening for traditional missionaries. Their goal is to make it possible for all places in the world to hear the Gospel message. Open USA does this by launching business professionals into different workplaces around the world. They teach these workers how to integrate their faith and work in such a way that those around them will notice and ask questions.
Devin is the church relations lead at Open USA. He networks with churches and colleges to cast vision for this work. He comes alongside what God is doing in churches and schools and looks for ways to partner with them and equip them in their efforts.
Integrating Faith and Work
Open USA offers their signature training program, Witness at Work Without Words (4Ws) to provide discipleship and training for professionals. Through this training, marketplace professionals learn how to integrate their faith and work in a way that draws the people around towards them.
The goal of the 4Ws training is to get people to ask you questions about your faith and your life. In any country it is legal to share about your faith if it is in response to someones questions. Open USA believes people need to see how Christians live so they become curious and start asking questions.
Putting the 4Ws training into practice is going to look different in each industry and workplace. Because of this, Open USA focuses on incorporating basic biblical principles in practical ways. This gives training participants the knowledge they need to implement the 4Ws in their unique work setting so they can be an effective witness right where God has placed them each day.
Learning from Jesus' Example
As Christians go through life, they should start looking more like Christ. This happens as Christians learn from the example of Jesus Christ in the Bible, and the leading of the Holy Spirit in their lives.
As you consider witnessing at work, how does the example of Jesus guide you? Devin presents the following graph – called Ikigai – and explores aspects of Jesus' life that fall into these four categories.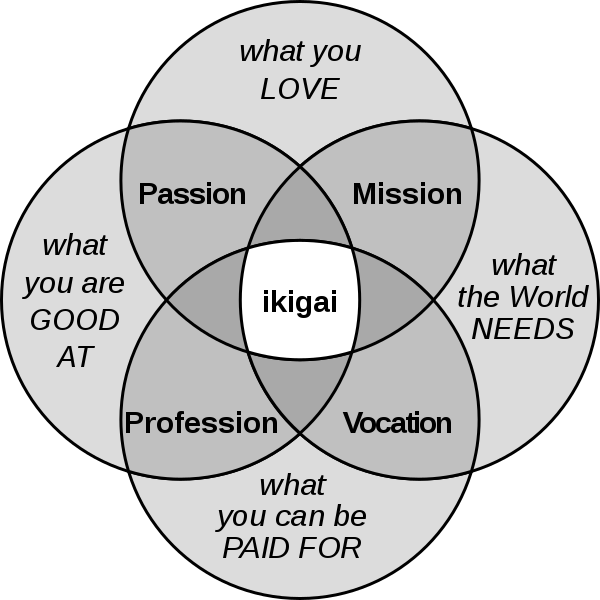 How does Jesus' life fit into this graph?
Jesus' mission was to disciple all nations and preach the good news to all creation. He magnified the glory of God in all the nations.
Jesus' vocation was to be an excellent carpenter and, for the last three years of His life, to be the divine messenger.
Jesus' profession for several years was likely learning the profession of a carpenter. There is good evidence that Jesus ran a business that would have met the needs of himself and any others He supported.
Jesus' passion was to love God and love others.
A church that looks like Jesus is going to be passionate for God and people. Churches that looks like Jesus from a vocational perspective will respect all the vocations in the church and see them as equally pleasing to God. A church like Jesus is going to honor the mastery of the skills and will honor excellent work in all professions.
The Sacred/Secular Divide
One mindset that is prevalent in Christian thinking regarding vocation is the sacred/secular divide. This separation is rooted in the idea that some vocations and types of work are more important to God. Additionally, the people who work in "sacred" roles are often viewed as more important to God. People in "secular" vocations are just supposed to make money to support those who do the important, "sacred" work.
Unfortunately, many marketplace workers don't see that they offer value to God's kingdom. Likewise, they don't feel that God cares about their work and how they do their work. This mindset has not been healthy for individual Christians or church communities.
Christians need to start asking questions about what it means to be someone who loves like Christ in the marketplace. What kind of impact can a believer have in their job when they fully embrace their unique role in the kingdom?
The church needs to start honoring all people's role in the kingdom. Both those who do vocational ministry and those who work in all the various roles in the marketplace can make an impact for God in all the spheres of this world.
Practical Ways to Witness at Work Without Words
What does all this mean for Christians and their work? For a believer – someone who has given their entire life to Jesus – nothing in their life will be secular.
Practical action: Write out a description of your work on a piece of paper. Once you have that, write out a prayer right next to it about how you want to devote and dedicate every aspect of what you just wrote about your work to God.
"…you yourselves like living stones are being built up as a spiritual house, to be a holy priesthood, to offer spiritual sacrifices acceptable to God through Jesus Christ."

1 Peter 2:5
One place to start as you consider how to witness in your workplace without words is to intentionally pray about your work, and those you work with. Consider these questions about prayer:
Are you talking to God about the specific details of your work?
Are you praying regularly for 3-5 co-workers you see in your office?
Do you ask to pray with your co-workers when they tell you about needs in their life?
As Christians, our love needs to look different. Consider small, yet meaningful, ways to show love to those you encounter in your workplace.